I didn't do it
Chthonic wants to know about awful, terrible things you have definitely never done. But secretly have. Confess!
( , Thu 15 Sep 2011, 13:16)
« Go Back
Community noticeboard shenanigans
Somebody - I know not who - is posting increasingly bizarre notices on our local community noticeboard in Reading. As soon as they are torn down by the self-appointed noticeboard guardians, a new one appears, to the detriment of the sanity of all those involved.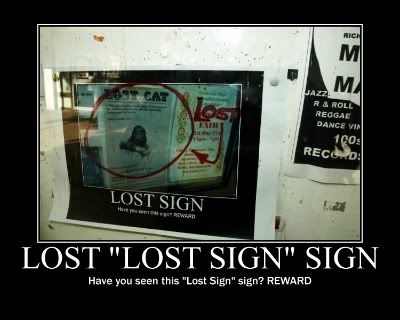 It is absolutely NOT ME*.
*
May actually be me.
( , Thu 15 Sep 2011, 13:34,
closed
)
THAT
is beautiful, sir. I especially enjoyed the idea of the the look on the chap's face as he ripped down the "lost noticeboard" sign, only to find a "Lost 'Lost Noticeboard sign' sign" alerting the world to the crime he had just committed.
Poetry.
Do not stop this game. It must only end when one of you turns utterly mad.
( , Fri 16 Sep 2011, 12:31,
closed
)
A couple of associated links, which show how far I've sunk
All the latest posters appear on a
Tumblr blog
Facebook group
, in which people accuse me of being a mental.
I AM NOT MAD.
( , Fri 16 Sep 2011, 12:37,
closed
)
« Go Back